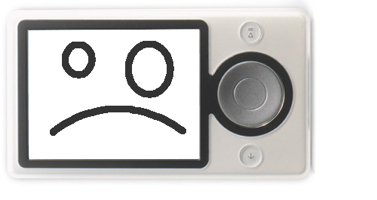 Hey, man, you ain't bad. Think about what kind of splash you'd've made back in, say, 2003! You would have been fucking
king
back then. And that screen, man, that's even better than a 5th generation iPod! Don't go breaking your head about that 6th generation iPod,
iPhone
, whatever, because you came out first, my man. You beat that poser to market by a good six weeks, so you've got that going for you.
And who needs a phone anyway, dude? Phones are so, you know, 20th century web 1.0 and shit. You've got the
Social
, my friend. At least, you will, as soon as all that Wi-Fi stuff
gets worked out
, what with Universal
demanding their cut
and all. I dig. But still, you think that iPhone-come-lately even
thought
about clearing all that 802.11b/g/n and Bluetooth stuff with the RIAA before flouting it all over town? Now really, man, would a true friend do that? That ain't what people want. What's to stop somebody from just sendin' all that copyrighted stuff over email to their buddies without the record labels getting a cent?! Who does that Apple think they is, anyway? They don't even put those "Intel Inside", "Made for Windows 2006", "Graphics by XYZ", or "Centrino" stickers on their junk! What's up with that?! How's a brother to know what chipset he's using, know what I'm saying?
Don't you worry, Zune, my man. We know who our friends are.
Technorati Tags: Apple, Bill Gates, iPhone, OS X, riaa, zune
Comments