My bestest little buddy went on a trip today. He's never been out there on his own before, so of course I'm worrying myself sick, hoping he's OK, and that the people at the Apple Repair Center are taking care of him. That's right, at 9:02 this morning, the UPS guy came by and picked up my Powerbook. He wasn't feeling well. The Powerbook, I mean. Thanks to
this problem
, he's going on vacation.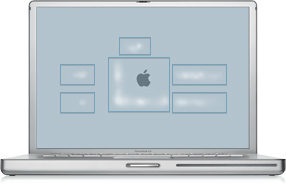 Now I'm working on my Windows PC. First day today. So far:


Virus update notification that couldn't be clicked away


ZoneAlarm popped up while I was playing Doom 3; machine frozen between video modes


Windows blue-screened for some inscrutable reason (rebooted before I could read the error message)


Upon restart received "Windows Critical Error" dialog, without specifics on which application it was


Weird window-management feature, where a window was off-screen, and could only be seen when maximized. "Tile Windows" didn't bring it back


Font-management bug where a Type 1 font couldn't be substituted in Macromedia Flash


It's going to be a long week.
As if reading my mind,
michael say
:
Going to a place that's far, so far away and if that's not enough
Going where nobody says hello, they don't talk to anybody they don't know
You'll wind up in some factory that's full time filth and nowhere left to go
Walk home to an empty house, sit around all by yourself
I know it might sound strange, but I believe
You'll be coming back before too long

At night I drink myself to sleep and pretend
I don't care if you're not here with me
'Cause it's so much easier to handle
All my problems if I'm too far out to sea
But something better happen soon
Or it's gonna be too late to bring you back

It's not as though I really need you
If you were here I'd only bleed you
But everybody else in town only wants to bring you down and
That's not how it ought to be
I know it might sound strange, but I believe
You'll be coming back before too long

Comments