I woke up this morning, grabbed myself a steamin' hot cup of joe, and took a look out my frontside fourth-floor window. Instead of dully staring at the insanity of my neighborhood, which is my usual morning routine, I noticed that there were police in riot gear milling about. This isn't something you see every day, despite being a good idea, especially around here.
Thinking maybe the Beatles were coming through, I feigned interest and stared out over my windowsill. Maybe the excruciating monotony of my existence was about to be broken, if only for a few short, sweet minutes. Then, at my most vulnerable moment, my girlfriend reminded me that
today is Nazi day
here in Augsburg. And the troglodytes of the Ancient Order of People Who Got Their Asses Kicked Last Century But Good would be slipping out of their caves for a short march, passing right past our windows. Super, I thought, more weirdos. I considered hanging my American flag out the window, along with a poster of the Red Army capturing the Reichstag, but only for a moment.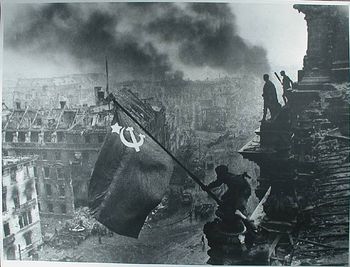 Marching for or against Nazis is about as pointless as marching for or against foot fungus. Little fungi just love being between your toes; people hate having them there; and you're not going to change either one's opinion about the matter. But some people are attention whores, and can't pass up the chance at making asses of themselves as long as it's in front of crowds. Just look at Jimmy Carter.
But I don't want to take sides, lest I be seen as unfair. So here's a little something for our Nazi brethren, on their special day:
Comments