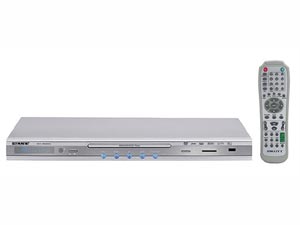 Being a late adopter has its advantages. For example, I just picked up a Scott i960CS, which is a commodity DVD/standalone DivX player. It cost about fifty bucks, and is so generic that it's nigh ungoogleable. I bought it to replace my fifty-dollar DVD player, which was getting a bit long in the tooth. About three years ago,
I really, really wanted one of these
, but they were going for a cool $400 at the local shops, so I decided to buy shoes and electricity instead. Now, I can pick one up at about 12% the cost that I would have gladly forked out back then, had I had the cash.
What a cool thing these doodads are. It will play just about anything you throw at it, format-wise. You can easily shut off the irritating
region restrictions
that would otherwise keep you from playing DVDs from other countries, which in my case would be the US-bought movies that comprise about half my collection. It's got a USB port, into which you can plug a thumb drive, iPod, or external hard drive, and browse them to play media.
My big idea was to copy all my music and movies to an external 160GB hard drive, hook it up to the USB port, and never have to switch discs again. Unfortunately, two things keep me from doing that. First, the Scott doesn't read long filenames from external devices (data DVDs seem to work fine), so you'll have to wade through FAT32-style mangled names, trying to figure out what "BLOWJO~1.AVI? could possibly be. And second, whenever you access the external drive, it thrashes around alarmingly, as the player apparently scans the entire thing at a go. It's scary enough that I'll stick to copying things over to the USB flash stick for the time being.
I realize this was all new and hot about three years ago, but that's what's great about being a late adopter: 50 bucks and you get that consumerist rush. Now, I can't wait until Christmas 2009 when I can pick up that sweet-ass Xbox 360 I'll be having my eye on.
Technorati Tags: consoles, entertainment
Comments