When I was up
visiting the Straight White Guy
last month, we discussed one thing that I'd always forgotten to talk about at blog meets: Blogging.
Eric puts out content more consistently than most bloggers, so I thought it would be interesting to know how goes about doing it. Unfortunately, he belongs to that shady
Mu-Nu
sect, so most of what he was saying came across as so much glassy-eyed Scientology to my untrained ears.
So, how does Rube 'post' a 'blog', you may ask? Well, let's take a look behind scenes!
[cue 'Leave it to Beaver' music and throaty-voiced announcer]
First off, Rube has to decide that he
wants
to post. This is actually the most difficult part of the entire process, and the weakest link in the chain of productivity.
If Rube make it past that hurdle, Rube fires up his trusty blogging program,
ecto
(click pictures for bigger versions):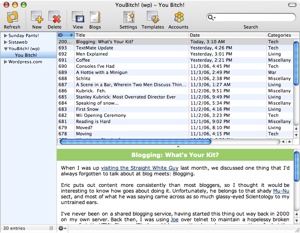 So, Rube clicks on 'New', and up comes the dreaded
blank page of inspirationlessness.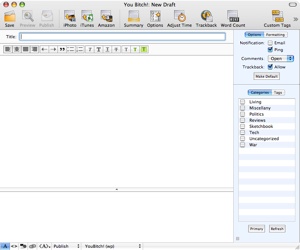 This is usually the part where I sit there a moment, wait for something to happen without my intervention, then close the application in bitter, crushing defeat. But today, we've got this post here to write, so onward! I choose a category from the list on the right, and start a-typing.
But at some point, I've got to get these screenshots in here. No problem, just hit the attachments button and choose an image: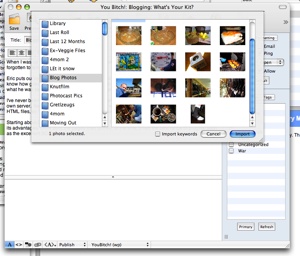 And Viola, it pops it right in there.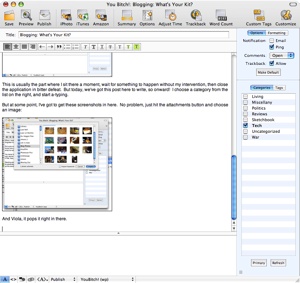 Once I've gotten my (admittedly lackluster) post put together, I can either save it, with the vain hope that at some point in the future I'll actually try to improve it, or publish it without regard to quality, accuracy or entertainment value. So, I hit publish. At which point, ecto does the rest of the work, contacting the server, uploading the pictures, pinging Technorati, and God knows what tedious grunt work that needs to be done.
And that's how it gets done over here at YouBitch! So, what's your kit?
Comments