Well, mom's been here for a good 3 weeks now. Well, ok, 24 days and 12 hours, but who's counting? She's been an ideal guest up to this point: She slept 12 hours a day, she washed the dishes, and, as expected, is always the lady. We had a fine time, visiting beautiful Innsbruck, Austria for a weekend; we also took a gander at the Kaufering Nazi concentration camp, just for giggles; and tonight we went to see The Lion, the Witch, and the Wardrobe together, which was great fun.


After the movie, we participated in the tradition German custom of going through some dead guy's stuff, as you can read about in my mom's new Blog, Cowboys Aren't Sheepherders. Go over and say howdy to the ol' cowgirl, but remember to be nice, it is my mom, after all.


Just a couple more things: First off, she said she would start a blog if, and only if I posted a humiliating picture of myself. Well, mom, here ya go: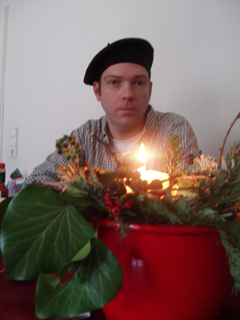 We loved having her here, and I'm already looking forward to her next visit. Until then, I just hope she posts a bit on her blog, to let us know how she's doing, and what the cat's up to.

Comments