Let's take a look at the resolutions I made last year: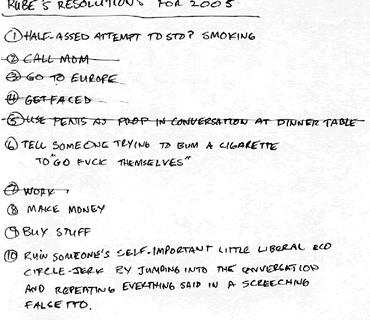 I did in fact make a half-assed attempt to stop smoking in early July. Check.


I called my mom once or twice. And anyway, she's over here now, so what the hell.


I visited Europe this year, for basically the whole year.


I think Jeckyll took care of this one for me.


I don't want to think about number 5. I had to throw that spoon away.


Number 6, oh, yeah, that was fun. I need to do that more often.


Too much.


Not enough.


Juussssst right.


Didn't come up, unfortunately, but I was prepared.







So so, 9 out of 10 ain't bad for a list of New Year's Broken Promises. Let's see what kind of softballs I throw myself for 2006!

Comments