It's snowin', snowin', snowin' outside, and the Mom's coming over to visit us for Christmas. There'll probably be some dead animals on the table in a day or two, as well as some sort of songs about...something or other. It'll be just like in the old days.


And we've got a kickass tree, and little gingerbread people in the title bar. It's all about the yule here that the palatial new youbitch secret headquarters.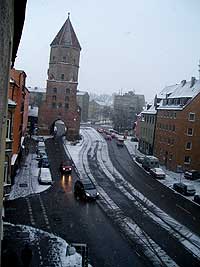 That's the Jakober Gate, right outside here, and it's a manly gate, as the sisters are writing in their blog whence this picture was stolen. St. Jakob, I think, discovered it on his way to find the holy grail in pamplona in the 1930s, unless I'm not mistaken.

Comments