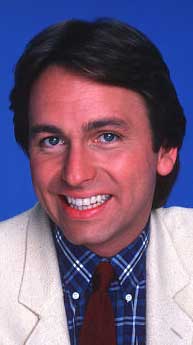 (pic from IMDB)
I feel kind of bad that I'm not seeing more news about John Ritter dying. I did think he was cool when I was a kid, watching him living in a sexy, quirky, kinky pseudo-homosexual menage-a-trois with two hot chicks, Chrissy and Janet, on "
Three's Company
".
It was a horrible show in retrospect, but then again, I was only seven years old when it came out. It never occured to me (really!) that every single show had the exact same plotline. In that respect, it was just like Gilligan's Island. Only worse.
It also never hit me as odd that, even though he was playing a straight man doing over-the-top nancy-boy queer-schtick half the time, and an over-the-top sex-crazed prat-falling chef's-hat wearing 70's slimeball the other half of the time, he still managed to get upstaged by
Suzanne Somers
.
I'm not putting him down. I really think he was a talented actor, and every now and then you saw it come through, even in some really horrifyingly bad career choices. He was great as the soft-spoken devil in
Wholly Moses
, for example, an otherwise bone-chillingly bad movie populated almost exclusively with unimaginative, bored-looking cardboard cutouts (Richard Pryor being the other exception). And of course, he played the only even halfway sympathetic character in the amazingly over-wrought and overrated
Sling Blade
. He also seemed pretty genuine in that old Blake Edwards movie, Skin Deep, though I don't have the patience to link to it.
He probably got screwed by the runaway success of Three's Company for the rest of his life. He had the looks and the talent, but didn't really get the respect.
It's been a
tough year
for entertainers.
Comments