Oh, them silly pranksters at PETA.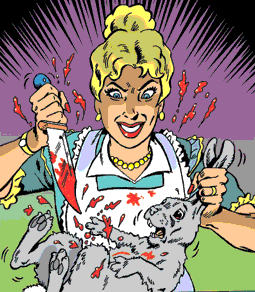 PETA, the People for the Abusive Treatment of Little Children in Deference to Chickens, has a plan this year. It's not been enough to
throw red paint on innocent people
, or
set minks free
that in turn terrorized local fauna and created an environmental disaster.
Now, PETA is going after people's children. The plan for this holiday season is to stand outside of performances of the Nutcracker Suite, dressed up as cuddly animals. They'll wait for women to show up wearing fur coats, then they give the
Your Mommy Kills Animals!
comic to the ladies' kids.
What's inside such a comic book? Glad you asked:
Keep your doggie or kitty friends away from mommy--she's an animal killer!
Does anybody find this kind of shit funny? All this will accomplish is that a few PETA representatives will, quite rightly, get the ever-loving shit beat out of them. It almost makes me ashamed to be a vegetarian.
On the brighter side, I'm starting my own photoshop contest! You can download the blanks of this comic here:
Illustrator & EPS Versions
(270KB)
(via A Small Victory)
Entry 1: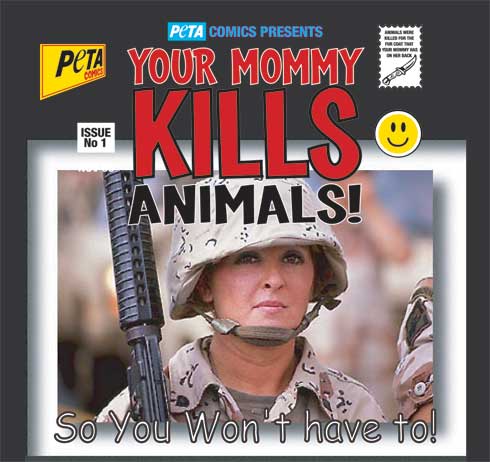 Comments