Yes, in a word, badassitude. I don't know much about history, or anything for that matter, but let's face it: If you're a dude wrestling naked with a bunch of other naked dudes, you'd better be Badass Cubed, or you're costarring in prison films for the rest of your life. And these dudes are badasses.
I can only imagine how the casting for this masterpiece of blood, gore, and birth defects went: "Lemme see, I'd be co-starring with that dandy from Phantom of the Opera and that long-haired nancy boy Faramir, and we'll all be naked and hitting each other with sticks? Sounds badass!" Color me skeptical, but I would rather be in a musical. On paper, anyway.
On the screen, however, it's a different story. It's two straight hours of testosterone-filled, pumped-up skull-bashing badness, replete with mutants, war elephants, and hot naked chicks lolling about on drugs, determining the fates of civilizations, as they so often do.
Nevertheless, there are some moments that raise an eyebrow. I noticed a rather troubling tendency of the leading men, and their relationships with their womenfolk. For example: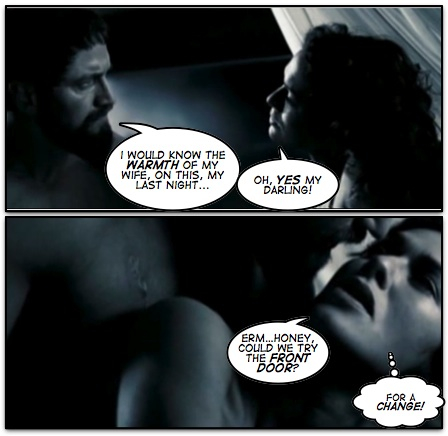 And later...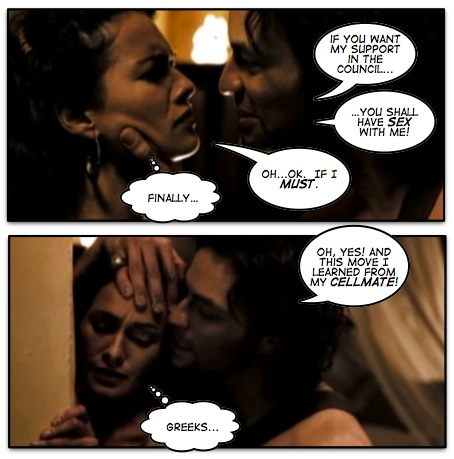 Leave it to Spartans to know how to treat a lady. What a bunch of mutants.
And speaking of mutants, Eric seems to see a certain resemblance:
And that big fella with the chains and the filed down teeth?... get outta town…. He reminded me of Velociman at a blogmeet after we'd ran out of vodka….
Since I respect SWG's judgement without question, I've been looking at the pictures. Truth be told, I don't really see the similarites. Here's the big waterhead from the movie: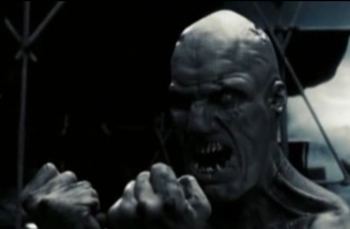 And here's Velociman at the Wreckyll, right after he finished off the Chatham Artillery Punch: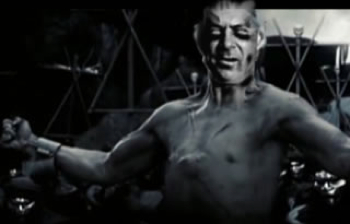 Well, there might be a superficial family resemblance there, but I think Eric's imagination is running away with him.
All in all, a fine movie to see with a date. For the ladies, there's men in loincloths, and more six-packs than a 4th of July NASCAR race. For the men, well, there's naked chicks and the bodies, they do pile high (literally!).
Comments