Rob's services will be held today, Thursday, in Savannah; we figured we'd post a bit of incriminating evidence from last year's Wreckyll in Jeckyll, the one time we were fortunate enough to meet the man in person.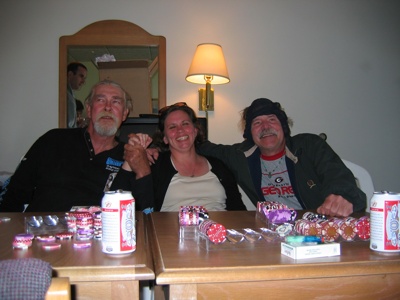 The winners of the Jeckyll Island Poker Classic: Catfish, Barbie, and Acidman, with a panty on his head.


The Usual Suspects: Dax, Eric, Catfish, Rob, Guido (Zonker's Parole officer), Recondo32 (with bullwhip), Rube, and Fiona, the Straight White Missus.


Catfish, Rob, Zonker's Parole officer, and Recondo32.


Rob, with a panty. I believe this particular panty was the prize in the poker championship.


Ann's lovely piggies, painted specially for Rob. No, I'm not jealous. Much.


And now, a little tune, sadly abridged, with Jim, Eric, Denny, Rob, and Rob's brother, Dave


Third Rate Romance, click to play


We would love to be in Savannah, today, to pay our respects and say goodbye. But we can't, so we'll just have to send our best wishes to his family, friends, and to Rob, bon voyage. It was great to know you, and we'll miss you.


P.S. there's some more stuff laying around that I'd like to put out there, so stay tuned!

Comments