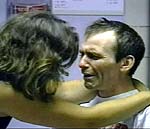 Nearly a decade after being left virtually speechless, a firefighter in Buffalo, New York, has suddenly started talking. Doctors are stunned, and trying to fully understand how the change came about.


Atlanta? That bunch of grits-eatin', banjo-playin inbreds? Atlanta?!


Jesus, you mean to tell me you can't even smoke in bars in the freakin' Bowery anymore?


Put me back to sleep, fer chrissakes!

Comments