Every now and then, me and the old lady sleep late, work up an appetite, then get up and enjoy a nice breakfast together. I'm happy to say that today was one of those days. Unfortunately, they don't have Waffle Houses over here, so your options are limited. It's either head over to the coffee shop for a $10 breakfast of yogurt and oak leaves, or do it yourself.


It just so happens that the old lady and me enjoy practicing the culinary arts, and brother, we produced. I'd like you all to meet someone very dear to me, the Small Southern Breakfast: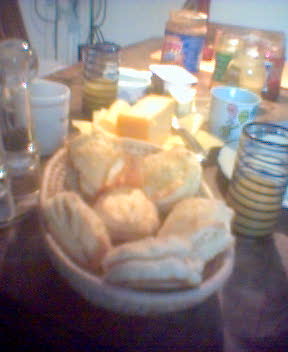 Let's see, what we got here?



Hot coffee


Fresh-squeezed orange juice


Homemade biscuits au Rube


One double-sized, spicy-hot Augsburg-style omelette


Cheese grits (made with Gouda, which is surprisingly good, even for a cheese-grits purist like myself)


Assorted cheeses (Gouda, swiss, emmentaler)


Butter, honey, peach jelly, and red-pepper spreads


Peanut butter, a rare commodity in these parts


One hungry Rube


One hungry Augie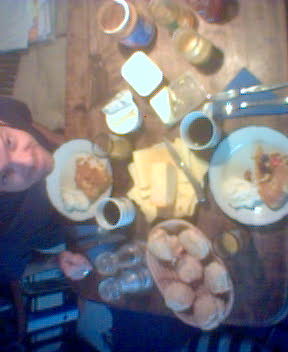 Yuuuuuummmmmmm-mi!


Then came the nap, but I forgot to take pictures. Y'all over there living in the Land o' Plenty have no idea what a rare joy it is over here to stuff yourself like a peanut farmer before getting out of your pajamas.

Comments