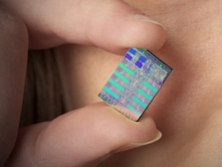 TrustedReviews: IBM, Sony, Toshiba to acCELerate Processor Market?






After three years of co-development between industry giants IBM, Sony and Toshiba the fruit of their labours has finally been detailed to the public. The Cell processor, which among other things will power Sony's PlayStation 3 games console, is a multicore chip that its designers boast has the potential to run 10 times faster than current PC chips.






They don't mention it in at the end of that article, but in this one (German) they make it pretty clear that this cell processor thing is a 64-bit, multi-core, scaled-down Power5. It's a similar manufacturing scheme as the current Power4 machines from IBM and the Apple G5 line of Power Macs. Can you say 'Power Mac G7'? I thought you could.


There are a couple of things that are interesting in these articles. Apparently, they're already being fabricated. IBM will be introducing them in a workstation line later this year, and the PlayStation 3 is already under development, so prototypes probably exist. Secondly, the price of the chip will be less than those in Intel's line-up. The introduction of the G5 lagged behind the Power4 by just over a year. That means if Apple opts for the cell, and if reports are accurate about its performance they should definitely consider it, we could see the new processor wearing something stylish sometime next year, and with a lower price-tag than the G5s.


So, wonder what Motorola's up to these days? Probably somewhere ordering rubber dicks with Tom Sizemore.

Comments