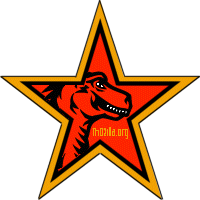 The
Mozilla Workers' Party
has announced version 0.9 of Firefox (click the link over there on the clichd and unintuitive interface element, "left-hand sidebar"). In the name of openness, and to avoid a browser monopoly, every single person on the Internet should use Firefox.
IE==HITLER!!!
If you're not using Firefox, you might just as well have sawed off those guys' heads with your own blood-soaked hands. Take a stand! Internet Explorer won't even let you see its source code!
Firefox will
, though the shit might as well be in Chinese for all the good it'll do you. No, really, peruse them 35,000,000 lines of spaghetti and find the little meatball that's sending your surfing habits to Richard StaLLLman. Ok, maybe that's not such a hot metaphor, but I think you get my point.
Seething Rage
That's the feeling I get every time I see that smirking, chimp-like blue "e" spinning in the top right navigation area thing up there. Ugh, how the hell did this insane Nazi browser get (ssssss)elected to be king of the freaking web, anyway? Nothing but a little piece of trailer-trash, elevated to the role of Puppet-in-Chief by its connections to Big OS Money.
It's time for Regime Change here in the Internet. I want to be able to use CSS rounded corners and alpha transparency, not "filters" and "effects". Don't let the Internet's fate be determined by the same kind of people who made BonziBuddy a household word.
Stop killing babies and start using Firefox!
Comments