I was playing around with the Mac OS X dictionary applet today. It's that cool bit where, if you hit Control-Alt-D, you'll be given the Oxford English Dictionary definition for whatever word you happen to have the mouse cursor over at the moment. I ran it over a blog entry I wrote a few days ago, and got the following: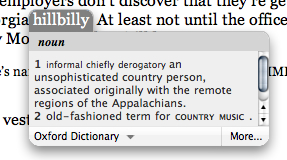 An "unsophisticated country person", you say? Sounds like a fairly P.C. definition of a hillbilly. I'm sure that hillbillies everywhere are pleased with the objectivity of that entry, at least the ones that own the Oxford English Dictionary. Or a Mac, for that matter, which I'm sure is the preferred computing platform for hillbillies everywhere.
Well, let's see what they say about Rube: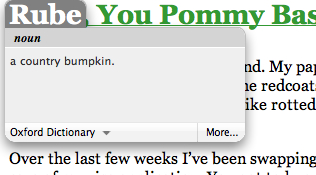 What the...? Well, that seems a little dismissive to me. Do I need to point out the fact that hillbillies got a six-syllable Scrabble-buster to describe them? And really: Bumpkin? Is that even a word? Dang, dudes, at least try to temper your contempt for a second.
My optimism for a warm welcome from the British folk isn't really stoked by this. "Hello, Mr. Bumpkin, welcome to England. Please be aware that chewin' on wheat stalks is restricted to designated areas. Enjoy your stay."
Pommy bastards.
Comments