Apple's updated iWeb, their web publishing, blogging, and podcasting tool. It actually has comments in the blog part now. Before, it was absolutely worthless, but, in typically Apple fashion, they've waited until the comments were done right before doing them at all.


First off, you create a blog post like this one. Then, you enable comments in iWeb's inspector, rather confusingly under the 'RSS' tab.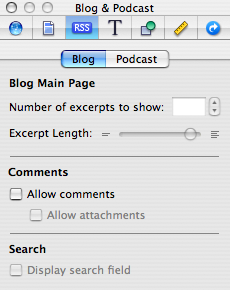 And voila! Users will get an Add Comment thingamabob on the blog entry, complete with captcha. You can even allow users to upload attachments with their comments, but I've never really missed that feature before, so I think I'll ignore it. Although it could be very cool for things like asking for grainy cell-phone pictures of your readers' tits. For example.





Nice looking, that. Oddly, user comments aren't scanned for spam, as far as I can tell; and, unlike with most other blog systems, you won't be notified per email. What you will get is a dock notification in iWeb in the vein of Mail's notification.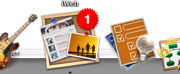 At which point, you can go into iWeb and read comments or delete spam. Somebody really needs to make a Growl plugin to take care of this, though, as most people don't have iWeb open 24/7.


All in all, a great update for iWeb. It still not probably not suitable for a power blogger, since it lacks features like, oh, seeing your hits and stuff, but it's not bad for just throwing something out there.

Comments