Since
some people
seem to doubt the legitimacy and good taste of the fine people at
HotOrNot
, here's a little something to put a spring in your step: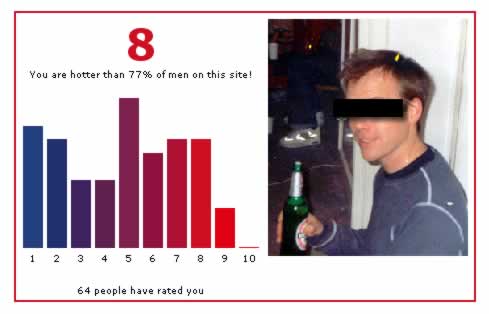 Take
THAT
, O! ye doubters. The observant among you will no doubt realize that my score is going UP as time wears on, and the statistical sample grows larger.
There is an underlying philosophical experiment I'm performing here. In a few weeks, I'll upload a picture of myself
sober and happy
, and see how the voyeurs at HotOrNot rate it. The point is, people love to see men who are drunk and/or depressed, and
absolutely despise
the sight of a happy, sober, emotionally successful man. Of course, the last picture I have of myself in THAT dreadful condition is my high school graduation photo.
Damn.
Comments